Attendance Webinar Sessions
During the pandemic the Attendance Service has continued to be reflective of the guidance provided by the DfE and how we use this information to support schools in the development of their practice. This has enabled us as a service to provide an opportunity to both maintained and academy schools, to access free live webinars on topics the Attendance Service feels are relevant and of interest.
The webinars will be presented by experienced Local Authority Attendance Officers and each webinar has a specific target audience e.g. School Attendance Officers/ Leads, SENCo's and senior members of staff etc.
The Attendance Service hopes that the sessions available to you will be invaluable when developing your good practice and procedures. We encourage all Cambridgeshire schools to access this learning opportunity.
Starting back at School - Frequently asked questions – Schools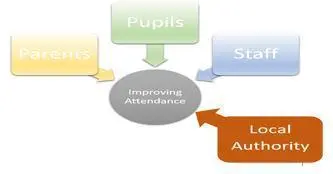 Improving Attendance Diagram
Evidence has shown that tackling absence can be most effective when a number of different approaches are taken by schools to encourage attendance. Environmental factors need to be considered and schools need to respond to their own particular problems in a way that works best for them. Schools should have an attendance policy and communicate processes to all staff, parents, students and the community. Schools will be required to take a balanced approach when dealing with attendance matters. They will need to recognise and be mindful of the impact that COVID may have had on both the pupil and the wider family.
Many attendance issues can be resolved by working with parents and children, and schools need to develop an inclusive approach to meet needs as early as possible and deliver appropriate pastoral support interventions. Schools should communicate frequently with parents about positive achievements and improvements, however small, and in ways which emphasis the responsibility and role of parents to ensure that their child receives an education. Before discussing a student's poor attendance, we recommend establishing a positive relationship with parents whilst being sensitive of their circumstances and needs as a result of COVID.
It is important to not make assumptions concerning young people who have poor attendance, but instead, communicate with the parents/carers and where appropriate follow the relevant referral routes. Absence due to illness needs to be raised sensitively with pupils and their parents with meetings being offered by the school as a way of intervening early and providing support. Most minor illness are self-limiting and do not require contact with a GP. Medical certification for short term illness is not appropriate and should not be requested as standard school policy.
A small number of pupils will still be unable to attend in line with public health advice because they are self-isolating and have had symptoms or a positive test result themselves; or because they are a close contact of someone who has coronavirus.
Where a pupil is unable to attend school because they are complying with clinical and/or public health advice, the DfE expect schools to be able to immediately offer them access to remote education which is monitored for levels of engagement.
Where children are not able to attend school as parents are following clinical and/or public health advice, absence will not be penalised.
In the eventuality of an absence occurring as a consequence of COVID schools are able to use an X code. This code is used to record sessions where the pupil's travel to or presence at school would conflict with:
Guidance relating to the incidence or transmission of coronavirus from Pubic Health England or the Department of Health and Social Care or
Any legislation (or instruments such as statutory directions) relating to the incidence or transmission of coronavirus
The X code is not to be applied for circumstances concerning behaviour in school or reduced time-tables.
Schools should be mindful that an X code can also be applied to record session where non-compulsory school age children are not expected to attend.
For further information on tackling absence – The role of the school (and early years providers) please see link below:
2.11 Attendance Processes - Tackling absence - the role of the school SEPTEMBER 2020
Schools should have their own thresholds for taking action where attendance becomes a concern. Avoid waiting for a child's attendance to slip to 90% or below (the persistent absence threshold). All schools should have whole school strategies where specific members of staff are allocated to different levels of attendance and are alert to drops in attendance.
The Attendance Service recommends implementing a step by step process for early intervention prior to referrals to our service for legal sanctions to be applied, please see link for further information of this process:
2.13 Step by Step - Early Interventions and Referral Process SEPT 2020
Parents need to be made aware of their responsibility to ensure that their child attends school regularly.
Schools are expected to develop a graduated response when engaging parents before the Local Authority will consider a referral for more punitive sanctions.
A parent contract meeting is an opportunity for the school and parent/s to discuss a child's attendance and to review the impact of school interventions thus far offered. It provides the opportunity for parents to discuss more generally any difficulties which the family are having and types of support that may be helpful to them.
Referral for Term Time Leave
Any parent who takes a child out of school for term time leave for 6 consecutive sessions (3 days) or more, not authorised by the school (under exceptional circumstances rule), may receive a Penalty Notice.

Referral for Penalty Notice for Term Time Leave form
Referral for unauthorised absence - request for the issue of a penalty notice or prosecution (not to be used for term-time leave)
To be used for:
Fast track - at least 8 unauthorised sessions over an 8 school week period (minimum 80 sessions).
90% and below mostly unauthorised over a longer period (must be more than 8 school weeks).
Unauthorised absence request for the issue of a penalty notice or prosecution online form


Request for Withdrawal of a Penalty Notice - Term Time Leave and Unauthorised Absence
To be used to request the withdrawal of a Penalty Notice issued to parent/carer for both Term Time Leave and Unauthorised Absences
Under the Cambridgeshire County Council Code of Conduct a Penalty Notice may be withdrawn by the County Council, regardless of whom within the authority issued it, if it is deemed that:
a) the notice ought not to have been issued (i.e. where it has been issued outside of the terms of this Code of Conduct or where no offence has been committed); or
b) the notice ought not to have been issued to the person named as the recipient.
Withdrawal is not automatic and by submitting this form your request will be considered by the Attendance Legal Panel and the outcome will be communicated to you.
Please note - Legal Panel sits every Monday with the exception of School Holidays.
Request for the withdrawal of a penalty notice for term time leave and unauthorised absence form
Penalty notice in respect of presence of excluded pupil in public place
When a pupil is excluded from school for either a fixed term or permanently, S.103 Education and Inspections Act 2006 places a duty upon the parent/carer to ensure that the pupil is not present in a public place at any time within school hours during the first five days of their exclusion.
Please note public place is defined as 'outside the boundary of the school'.
Before submitting this referral: A signed witness statement will be required from the person who saw the pupil in the public place and willing to submit this as part of this Penalty Notice Referral. Guidance on the witness statement can be sought from your linked Local Authority Attendance Officer.
Request needs to be fully completed and submitted to the LA within 15 school days of the child being seen in the public place.
Penalty notice in respect of presence of excluded pupil in public place