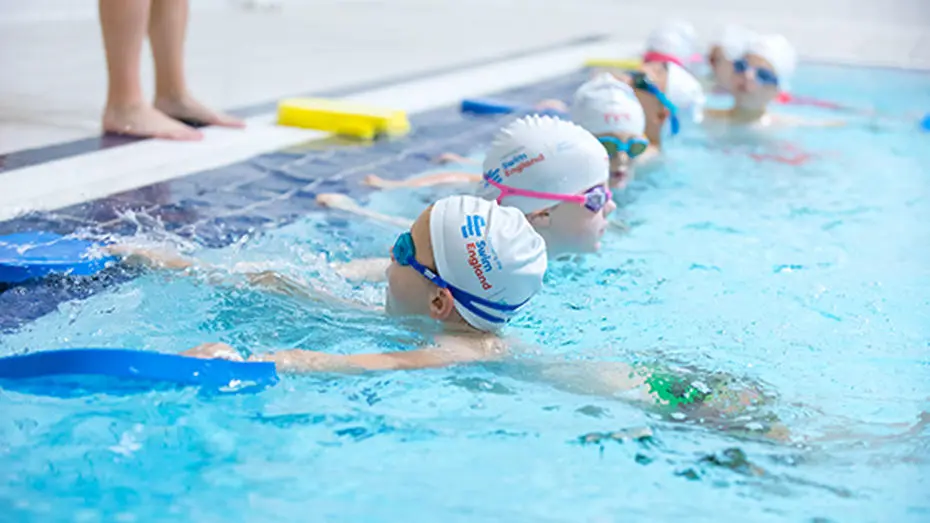 Cambridgeshire Physical Education Advisory Service is committed to supporting schools with the return of National Curriculum School Swimming and Water Safety following the period of closure.
It is important to respect the continued requirements for social distancing and enhanced hygiene regimes, along with guidance on how this will impact on the different experience the pool user will have.
As with all environments, there is still a level of risk of Covid-19 transmission in aquatic settings that requires control measures to be implemented, based on your Covid-19 Risk Assessment. Schools, swim schools and operators must create their own risk assessment.
Key headlines:
Schools must school nominate a dedicated officer or lead responsible for Covid-19 considerations, making sure that they are up to date with central or local government guidance.
When working with a local leisure provider (e.g a leisure centre with a pool ) schools must be familiar with the setting's guidance on managing the risk of transmission of Covid-19 within their facility. There must be an expectation that social distancing within a local public facility is adhered to at all times. This may mean that even where school bubbles may differ in their rules on social distancing while at school, they will need to follow social distancing rules
Teachers should deliver from poolside. With young children, where adults do enter the water, it must be risk assessed
Providers of school swimming should review available pool space to allow for correct social distancing, including entry and exit points
All equipment should be sanitised before and after each activity
External school swimming provision:
If school swimming provision is offered externally to the school the following should be considered by the provider delivering the activity and the school.
School and Lesson provider to liaise and discuss the new ways of working and current procedures
Schools should consult with the setting to ascertain the maximum number of pupils the venue can facilitate at any one time
Risk assessment's to be completed by the school which aligns with the providers Covid-19 procedures.
Understand and agree to hire agreement.
Discuss and agree on lifeguard provision and procedures.
Adaptations and considerations of lessons and changing provision for any pupils with SEND.
agree on changing room protocol
cleaning regime
reporting in and out of the facility
addressed any concerns and queries.
Transport to swimming lessons
It is important to consider:
how pupils are grouped on transport, where possible this should reflect the bubbles that are adopted within school
use of hand sanitiser upon boarding and/or disembarking
additional cleaning of vehicles
organised queuing and boarding where possible
distancing within vehicles wherever possible
the use of face coverings for children (except those under the age of 11), where appropriate.
Where schools have their own on-site swimming pool
Guidance for Pool Operators
Assuming school pools are maintained in line with Cambridgeshire and PWTAG expectations, Covid-19 should not be transmissible through the swimming pool water.
Ventilation
Ventilation has always been critical for safe and comfortable pool hall conditions. Poor ventilation is considered a potential transmission route and measures must be taken to reduce that risk. Schools with indoor pools must ensure that ventilation systems are efficient.
Cleaning Regimes
To disinfect the Pool surrounds, changing rooms and toilets – use a chlorine solution of 1000mg/l at least twice a day. If using a detergent care must be taken to ensure that cleaning residues go to drains and not into the pool system.
• Frequently touched surfaces e.g. door/toilet handles, lockers, changing cubicles after each class. This could be through the use of an anti-bacterial spray / cloth
• Pool equipment (floats / noodles) - ideally cleaned after each use with a solution of 100mg/l chlorine, then rinsed off with mains tap water before reuse. Small equipment such as egg-flips and dive toys could be soaked in a sterilising fluid such as Milton and rinsed with mains tap water before re-use.
Preparing disinfectant solutions
Appropriate personal protective equipment (PPE) should be used throughout preparing and application.
Covid-19 Recommended Pool Chemical levels
Chemical levels MUST be in the green band
Free Chlorine – Please see diagram below
pH – 7.0
Routine water tests should be conducted every 2 hours under current circumstances.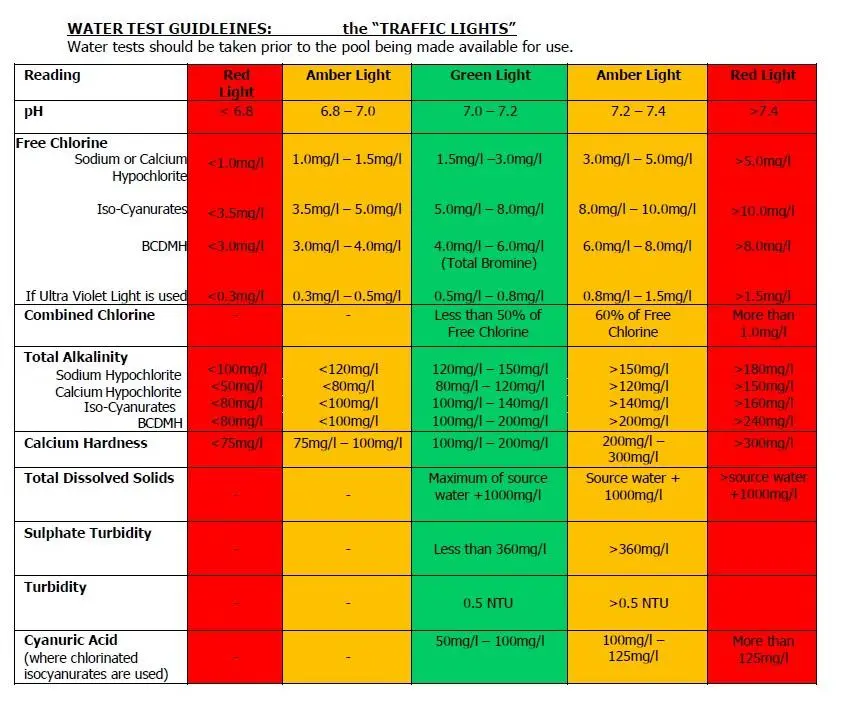 Maximum pool capacities
Risk assessing social distancing in the water
As part of the the process of assessing risk, and determining maximum pool capacity, schools should consider the following variables:
Distance: The greater the distance between participants the lower the level of risk of transmission via air droplets.
Duration: The shorter the duration (time) at which participants are within close proximity, the lower the level of risk of transmission via air droplets.
Activity: The way in which participants move during the activity will determine how you can control the above two parameters
| | | |
| --- | --- | --- |
| Activity | Notes | Risk Controls |
| School Swimming | Participants within a school swimming session may be grouped in bubbles that do not need to be social distanced.However these bubbles must remain socially distanced from other pool users. | Bubbles from school swimming guidance to be applied.Minimum of 3m2 per person.Overall maximum bather load calculations must also be considerate of the overall building capacity particularly changing arrangements. |
School premises owning and operating their own pool;
If you externally hire out your facility to external parties please ensure you follow our recommended steps and liaise with them directly ahead of the booking.
Ensure you have the:
external hire agreement
external hire risk assessment – detailing measures that have been put in place to minimise the risk of Covid-19
confirmation of external hirers insurance
confirmation of the external hirers risk assessments and details of ways of working in the pool environment
all teaching staff to hold a current DBS and Safeguarding qualification, teaching qualifications, lifeguard qualifications and provision.
Swim England Guidance - Please download