Maths Trails
The Cambridgeshire Maths Team have worked in partnership with the Outdoor Education Adviser Service to create Maths Trails for schools to use with children aged 7-11 years old.
Maths Trails provide you with an exciting opportunity to take learning out of the classroom and into your local area. There are Trail Packs for towns and cities across the Cambridgeshire and Peterborough area for you to download and use. If your school is located in an area that doesn't have a maths trail yet, or you would like support with creating a maths trail for your school, please contact us.
We are also in the process of supporting outdoor education centres with writing maths trails so that when your school visits an activity centre they could take part in a maths trail there. If you work for an education centre and would like to work with us to create a trail for your site, please contact us by email: maths.team@cambridgeshire.gov.uk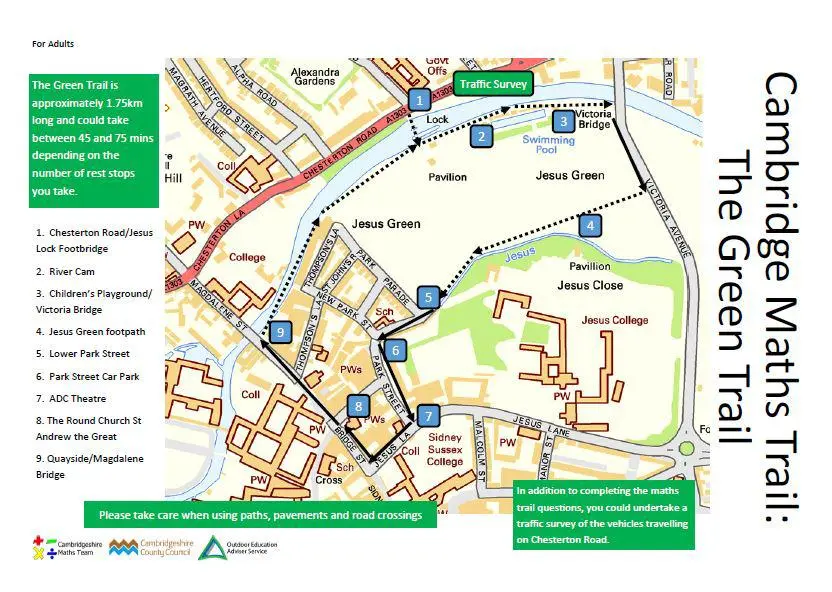 Maths Trail Packs
Each Trail Pack includes instructions for teachers (including directions and a map) and questions and challenges for children to solve. The questions are based on the physical and human geography of the locations, including natural and man-made landmarks. The activities are designed to be fun and challenging at the same time. Whilst the questions have been planned for children in Key Stage 2, you could adapt the routes or questions to make them more suitable for younger or older children if you wish.
Please note:
Please note that whilst an 'answer sheet' has been provided for children to record their answers on, lists of solutions with specific answers are not provided – the questions are to be discussed back in the classroom as some answers will continually change (e.g. those that ask how much time has passed since a fixed date/event or time between two clock readings whilst taking part on the trail) and also some may vary dependent on parameters of the problem (e.g. how many benches required to seat the whole class).
Educational Visit Coordinator
All offsite visits require good planning, preparation and leadership on the day. Please talk to your Educational Visit Coordinator to help you plan for this activity, combined with the above notes.
We hope that you use the Maths Trail Resources to engage and inspire your students and apply their learning outdoors and that you all have fun.
Feedback on the trails is very welcome.
Contact Us
If you would like to find out more about Maths Trails, or you would like to know if there is a maths trail for your local area, please contact us.