Diagnostic Assessment Toolkit: Assessing Prior Learning in Mathematics
NEW for 2020/21
The Diagnostic Assessment Toolkit is a new resource, created by the Cambs Maths Team to support teaching and learning in maths.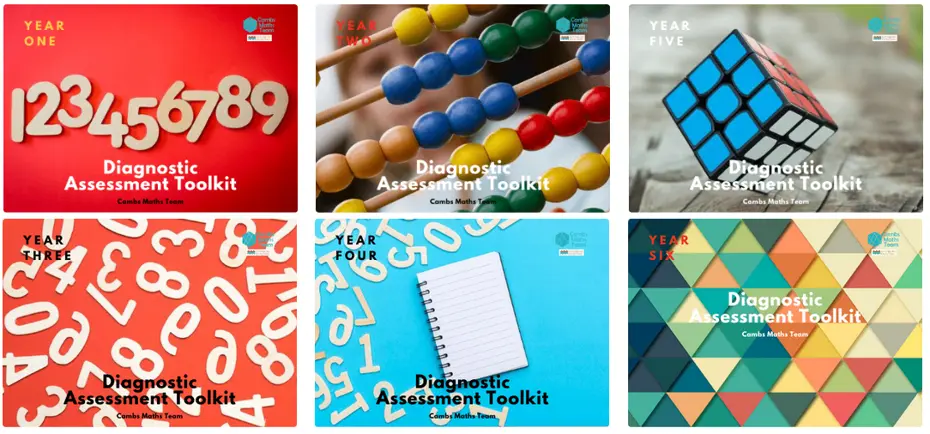 Toolkits for Years 1 to 6
Diagnostic Assessment Toolkit
There is a toolkit for each year group, each with a companion PowerPoint presentation containing the diagnostic activities.
The toolkits focus on assessing children's prior learning in maths. Therefore the activities contained within each toolkit focus on the key concepts from the previous year group. This helps teachers to identify what the children have remembered about their prior learning before their new topic begins.
Every toolkit contains information and advice for teachers to help them with identifying and addressing misconceptions.
Each toolkit begins with an explanation of what a diagnostic assessment is, how to carry out a diagnostic assessment effectively, and answers to some frequently asked questions; before then outlining key ideas and activities for each topic in the national curriculum.
Diagnostic Assessment Toolkits are available to buy now.
Download Your Free Sample
You can download a free sample of the toolkit activities for each year group for the first topic: Number and Place Value.
In the sample, you will receive:
An explanation of how to carry out a diagnostic assessment
Topic introduction - containing information about prior learning and key vocabulary.
Common misconceptions and advice for addressing misconceptions
Diagnostic activities - explained with an annotated image
Printable diagnostic activities page, for teachers to annotate
Purchasing the Diagnostic Assessment Toolkit
Diagnostic Assessment Toolkit - £20 per year group toolkit, or £100 for all six.
Click on the button below to place your order. This will load a booking page. Select 'Diagnostic Assessment Toolkits'. Click on 'book', enter your details and select which year group(s) toolkit(s) you would like to buy.
Contact Us
For more information, email: maths.team@cambridgeshire.gov.uk