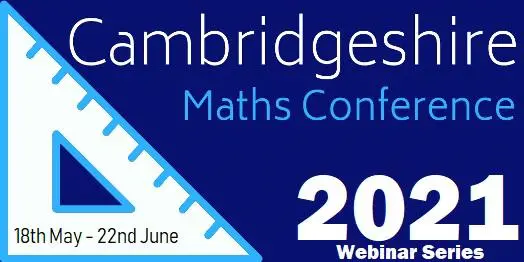 Cambridgeshire Maths Conference Webinar Series 2021
The Cambridgeshire Maths Conference is returning in 2021. As we are unable to host an in-person live event, we have organised a series of 5 webinars taking place in May and June. Each webinar will be led by an expert practitioner, sharing research and advice relating to teaching mathematics.
Presenters
Gareth Metcalfe is an experienced teacher, school leader and NCETM-accredited maths trainer. He is the Director of I See Maths and is the author of a range of mathematics resources for Primary age children.
Dr Helen J Williams is an Early Years' mathematics specialist who has been involved in mathematics education for over 30 years, since 1994 as an independent consultant. Currently, Helen works with her local NCETM Maths Hub and the Early Childhood Mathematics Group. She is also a member of Early Education, the Mathematical Association, the British Society for Research into Learning Mathematics and the Chartered College of Teachers.
The Cambs Maths Team provides support to schools and settings across Cambridgeshire and Peterborough, working with colleagues to deliver bespoke professional development training. In addition to providing in-school support, the Maths Team leads events, school improvement projects and a range of teaching and leadership briefings and courses. Over the last 5 years this has included projects focussing on improving outcomes and experiences for disadvantaged pupils in maths. The team also produces high-quality teaching and learning resources such as the Diagnostic Assessment Toolkit.
Liz Woodham is the Primary Coordinator at NRICH and this involves working as part of a team to develop primary-level materials for the website and to run associated teacher professional development. Liz is a member of the joint MA ATM primary expert group and is a school governor.
Webinars
Tuesday 18th May, 4-5pm. Gareth Metcalfe - Teaching Problem Solving.
Tuesday 25th May, 4-5pm. Dr Helen J Williams - EYFS and KS1 Maths - What Matters?
Tuesday 8th June, 4-5pm. Cambs Maths Team - Using Assessments Diagnostically
Tuesday 15th June, 4-5pm. Cambs Maths Team - Diminishing the Difference in Maths
Tuesday 22nd June, 4-5pm. Liz Woodham - Problem Solving and Metacognition
Book
If you would like to attend the Cambridgeshire Maths Conference Webinar Series 2021 you can buy 1 ticket for all 5 webinars, for the one-off price of £60.
This ticket will allow you to register one member of staff for each event. As this event is taking place on Zoom, over a series of 6 weeks, you could choose to register a different person for each session if you prefer.
To book your ticket, go to https://cambridge.council.bookingbug.com/home/w2489610 and click on the Conferences tab.
Keep your eyes peeled for more information @cambsmathsconf on Twitter.