Home Learning - Advice for Schools
Since the announcement of school closures, we have been working hard to create and collate the best home learning resources available for children and their families.
In the document downloads section below you will find guides to support you with directing parents and children to free, high-quality resources. There is information about the Home Learning Hub - our one-stop-shop of amazing resources linked to all areas of the curriculum (and more!); as well as home learning guides for parents and carers.
Schools Competition
We have also created a fantastic competition for schools. Visit www.cambslearntogether.co.uk/home-learning/projects for more information about our Create A Community Competition and what you can win. Well done and thank you to the schools who have already submitted their wonderful entries!
Home Learning Opportunities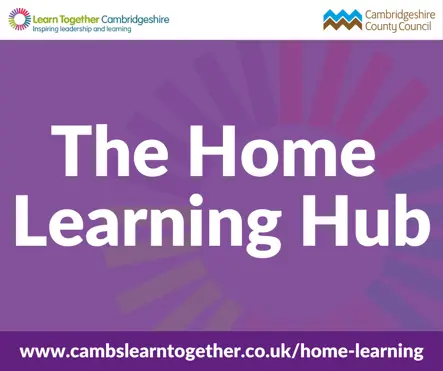 Home Learning Hub
Challenges, Projects, Study Packs and More on The Home Learning Hub
Our team of advisers, in Cambridgeshire and Peterborough, have created amazing activities for children of all ages. There are study topics, projects and an wonderful range of challenges. You can download some of these below and find the rest on the Home Learning Hub.
Challenges on the Home Learning Hub
The challenges we have created are fun, short activities for children and their parents. On the challenges page, you will find a wide range of things to do. Here is just a sample of what you can find on the Home Learning Hub.
English and Maths Challenges
Projects
Our team of advisers are always looking for more ways to help you to support home learning and to inspire children to engage their curiosity.
The projects that we have created guide children to interesting and fun activities which they can do at home, on their own or with their families. The following projects are just a sample of what you can find on the Home Learning Hub.
Outdoor Learning Projects
Study Topics
Study topics are a fun way to join learning from different curriculum areas together. Children can learn about a topic in ways that interest them, following their own lines of enquiry. Whilst all of the topics could be accessed and enjoyed by older children, some topics have been made with younger children in mind - such as the Dinosaur Study Topic or the People Who Help Us Study Topic. Here is a sample of some of the study topics we have created. You can find more on here: https://www.cambslearntogether.co.uk/home-learning/other-subjects