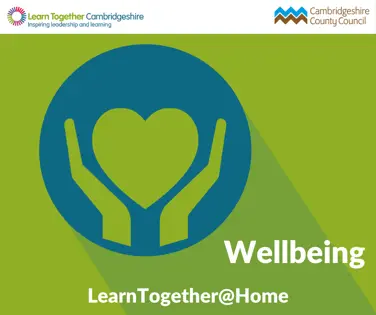 Wellbeing
The following resources could be used to support the wellbeing of children and adults.
NEW: Book of Hopes - "The Book of Hopes: Words and Pictures to Comfort, Inspire and Entertain Children in Lockdown" A collection of poems and short stories from some of the world's best children's authors.
Explaining the coronavirus to young children
It can be difficult to explain why we have to stay indoors, wash our hands for 20 seconds and why some people we know are getting sick. There's an increasing number of resources you can access, for free, to help you to explain the coronavirus and social distancing to children.
#COVIBOOK Author Manuela Molina has created a book for children aged 7 and under. As the author explains, "I have created this short book to support and reassure our children, under the age of 7, regarding the COVID-19. This book is an invitation for families to discuss the full range of emotions arising from the current situation." This book is available to download in several languages, including English, Spanish, Italian, French, Portuguese, Polish, Russian, Chinese, Arabic and other languages too. Download it for FREE here: https://www.mindheart.co/descargables
Nosy Crow have produced a FREE book for adults to read to their children, to help explain what the virus is and how to stay safe. The book was made with expert input from Professor Graham Medley of the London School of Hygiene & Tropical Medicine and has been illustrated by Axel Scheffler. This downloadable book is written in child-friendly language and will help to answer many questions children may have. You can download it for free here from the Nosy Crow website: https://nosycrow.com/wp-content/uploads/2020/04/Coronavirus_INSwith-cover.pdf
Children's Commissioner's Guide to Coronavirus - is free to download. "The guide aims to answer children's questions about coronavirus, tell children how to stay safe and protect other people and how to help them make the best of their time at home." Download the guide below, or from the Children's Commissioner's website here.
Mental Health Support for Children and Young People
We have created a dedicated page with resources to support children during this time. Visit www.cambslearntogether.co.uk/home-learning/wellbeing/cyp
There you will find links to websites with services to help if you are having any emotional or physical problems.
Resources to Support Wellbeing at Home
Strengthening Minds - Strengthening Minds, a london-based organisation that supports the wellbeing of children and their families has created an excellent resource called The Strengthening Minds Guide to Staying Home... In Style. This free, downloadable activity pack contains information, games and activities, for families, children, teenagers and there's a section on mindfulness and wellbeing. It's definitely worth checking out. Download it from the Strengthening Minds website or from the resources section below.
Nuffield Health - Keeping a journal and doing daily exercise can help us to look after our wellbeing. You can download a free Wellbeing Journal and take part in some 15-minute exercises, created by Nuffield Health here www.nuffieldhealth.com/kidswellbeing
Spread the Happiness - Singing and dancing are also a great way to help us feel happy. Spread The Happiness have shared their Nursery Rhymes and Dough Disco videos for free, here: https://www.spreadthehappiness.co.uk/free-tv-happy-links/
Cosmic Kids - Yoga and Meditation can help children to relax and stay calm. Cosmic Kids Yoga channel on YouTube has free videos aimed at children aged 3+.
iMoves - iMovement is a collection of resources including physical activities to help children and adults to stay active and to look after their wellbeing. You will find short 'Active Blasts' (10 minute work outs) to Yoga and mindfulness resources.
Resources for Schools
The Anna Freud National Centre for Children and Families has created two useful guides for schools and colleges:
https://www.annafreud.org/media/11160/supporting-schools-and-colleges.pdf
https://www.annafreud.org/media/11727/managing-transition-back-to-school-jun2020.pdf
This second document, 'Managing the transition back to school', provides suggested routines and gives consideration to how we can help children and their families in this phase of schools reopening.
Resources to Support Wellbeing
Please note that Cambridgeshire County Council is not responsible for the content of external websites.