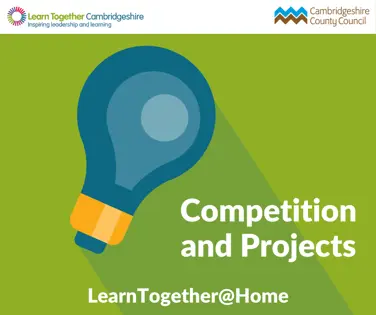 Project-Based Learning
On this page you will find a number of project-based learning activities for children and their families.
Recommendations
In the video below, Gary (a Maths Adviser) shares some of his favourite resources from the Home Learning Hub for you and your family to try at home.
Projects
The following activities and ideas are designed to support sustained learning over a longer period of time. Children can choose to complete some, many or all of the tasks in a project.
Many of the projects listed below have been created by Cambridgeshire Maths and English Advisers. If you like these projects and would like to try something similar, you many also be interested in study topics - these can be found on the Other Subjects page.
Island Project
Island Project - In this project children can learn more about islands through a wide range of wonderful activities and investigations – including art, music, DT, maths and English ideas for you to try. This project has many parts which can be completed without a computer, but some activities require internet access. Suitable for children in KS2 to complete at home or school.
Maths on the Move
The Cambs Maths Team have created three investigations for you to choose from. Find out more about some of the largest running events in our Maths on the Move project. You can learn all about the London Marathon or parkruns and present your information in a number of ways.
Outdoor Projects
We have created an outdoor art project for you to try. The project involves exploring patterns, shadows and textures and challenges you to use photographs and sketches to record your ideas and observations. This project is suitable for children and adults!
The Garden Project is a series of exciting and imaginative activities for you to try in your garden. There are lots of brilliant things to do, on your own or with your family. Download the project and choose an activity to try the next time you are outside.
Create a Community Challenge
The Create a Community Challenge was created as a competition for all Cambridgeshire and Peterborough infant, junior and primary schools, where children were invited to work together to complete a project. This community project combines many areas of the curriculum, from Maths to Art and PSHE to Geography!
Although the competition is now closed the resources are still available for you to use.
To complete the challenge you will need to carry out research, make decisions and produce a community map or model of your town. Try to be as creative as you can - building your town out of whatever you have available (junk models, Lego, play-doh - anything you like), or making a map using pens and paper or using masking tap or chalks on the ground.
WINNERS: Well done to the competition winners Old Fletton Primary School on their success. Their winning entry, Coville, was the result of a fantastic team effort from children in their Year 6 bubble. You can find all about their entry on Old Fletton Primary School website, click here for more details and to watch a video all about their town.
If you would like to make your own town, click on the image below or download the pdf from the Project Resources section, then follow the instructions to create your community.
Other Projects
If you'd like to try more projects, or your interested in creating a project of your own there are lots of places you can start for ideas and inspiration.
Study Topics
On our 'Other Subjects' page you can find out Survival Study topic and our Cambridgeshire Study topic. These study topics link several curriculum areas around one theme. Children have questions to answer and suggested activities and ideas to explore.
External Links
Fiver From Home - this is an interesting and fun project which can help children to learn about business. Children imagine they are starting a company, with five pounds, and follow activities in a downloadable workbook to design their company and market it. The project culminates in a presentation, pitching the business idea to someone at home. This project will require some adult involvement and a simple registration. Get started here: https://www.fiverchallenge.org.uk/fiver-from-home/
Robin Hood MAT - Alternatively, check out some of the projects created by the Robin Hood MAT in Birmingham here: https://www.robinhoodmat.co.uk/learning-projects/#parents there are activities for each year group.
Please note that Cambridgeshire County Council is not responsible for the content on external websites.