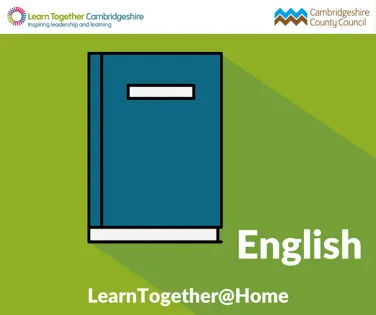 English Home Learning Activities
This page contains links to a wide range of free activities and resources to support English learning at home.
English Challenges
All of these challenges have been created by our team of English Advisers, from Cambridgeshire and Peterborough, to engage your children in exploring English at home. You can also find some exciting and interesting challenges for children to try at home here: https://www.cambslearntogether.co.uk/home-learning/challenges
20 English Challenges for KS1 - We have created a range of fun English challenges for you to try at home with your 5 - 7 year olds.
20 English Challenges for KS2 - We have also created some English challenges for 7 - 11 year olds, for you to try at home.
20 Outdoor English Challenges for KS1 - Here is a selection of fun and imaginative activities you can do with your friends, family or on your own. These activities are designed for 5 - 7 year olds.
The Literacy Characters Challenge is a short quiz for children to name 20 famous characters. Children are then challenged to create their own quiz for their friends and family.
The 'ai' Treasure Hunt is an activity for children to practise their phonics skills by finding objects with the 'ai' sound. We have also created an 'ai and ay word sort' challenge for children to practise their sounds.
Reading Thinkabouts - When you're reading with your child at home, there are some great ways you can challenge them to think carefully about the book. We have created a list of questions you can ask, to support home reading.
Key Stage 1 Reading Cards and Key Stage 2 Reading Cards challenge children to respond to two stories they have read. Each reading card set, contains 'something to think about' and 'something to do'.
Cressida Cowell's 10 Book Challenge - Ten fantastic books recommended by Children's Laureate, Cressida Cowell, for children aged 10 and older.
Peterborough Reads Challenge - 31 Day Reading Challenge
Recommendations
In the video below, Kathryn (an English Adviser) shares some of her favourite activities from the Home Learning Hub.
Additional Resources for Parents and Carers
Please note that Cambridgeshire County Council is not responsible for the content of external websites.