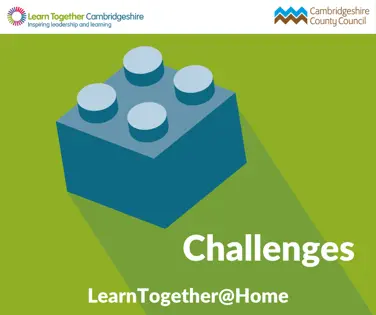 Challenges
In the video below, Anna (an English Adviser) shares some of her favourite activities from the Home Learning Hub for you to try at home.
Home Learning Hub Treasure Trails
The Home Learning Hub Treasure Trail is a challenge for older children, or for families to complete together. There are 9 challenges to complete, starting from this website. Each level of the challenge involves different websites and resources with things for you to find, look at and try. Open the challenge and see how many levels you can complete! #FindLookTry
We have now also added a Home Learning Hub Treasure Trail for Key Stage 1 with five levels of challenge for children aged 5-7. #LookFindTry
More challenges - open the tabs below to access lots of challenges for you and your children. There's something for everyone!
English and Maths Challenges
The Cambridgeshire English and Maths Team of advisers has created a wide range of challenges for children to try when learning at home. Click on the images below to take you to the English Challenges and Maths Challenges pages. There you will find the resources, to download for FREE.
Further Challenges
The document below contains many more challenges for you to try at home, including physical challenges, celebrity challenges, Lego challenges and more.
Please note that Cambridgeshire County Council is not responsible for the content of external websites.